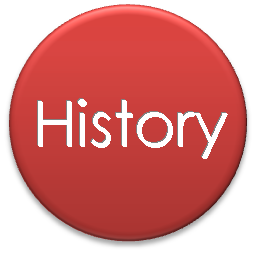 BRITAIN AND EUROPE 1973-2020 • • METHOD 1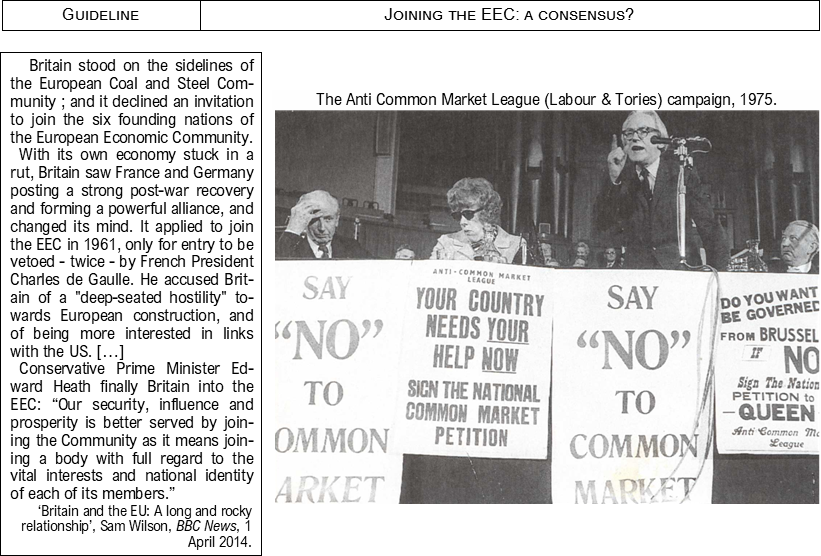 Stage 1 - Introduction: presenting the documents
Similarities: Both documents wonder if joining the European Economic Community was a consensus -between the Conservative and Labour parties when they applied for membership in the 1960s and then joined in the early 1970s.
Differences: The 1st document is an article by Sam Wilson describing the UK-EU stormy relations and posted on BBC News website on 1 April 2014. The 2nd document is a photo showing The Anti Common Market League campaign for the 1975 referendum.
Announce structure: In a 1st part I'll analyse why Britain first stayed out of the EEC & in a 2nd part I'll explain how it finally entered the EC.

Stage 2 - Analysing the documents

DESCRIBING - What you see (docs)

INTERPRETING - What you know (notions)
1. Britain out of the EEC thanks to article §1


Article P1 Reasons why Britain, (economic growth & political power) changed its mind (refused to join in 1957) to apply twice in the 1960s (Tory & Labour PMs) -unsuccessfully due to DG's veto as he thought UK not truly European & linked to USA


- (facts) 1957 EEC born without the UK: economic co-operation & common market : OK (economic liberalism & free trade defs) BUT NO to customs union & CAP
- (facts) 1960s Conservative PM MacMillan (1961) & Labour PM Wilson (1967) applied for membership = political consensus to lose sovereignty to regain power BUT French president De Gaulle's veto due to UK's insularity (def)


2. Britain in the EEC with article §2 + photo


Article P2 The UK joined in 1973: Tory PM because DG out and stayed in the EEC thanks to huge majority (parties & press) in the 1975 referendum.
However debate due to eco crisis => opposition illustrated by photo background Labour & Tory speakers at a rally & foreground signs ≠ Common market (eco) & government from Brussels (pol).


- (facts) UK joined EEC on 1st January 1973: 3rd application by Conservative PM Edward Heath (1970) approved if Britain cancelled CW preference and supported CAP => UK concessions => French president Pompidou happy
- (facts) 1975 UK referendum on staying in the EEC by new Labour PM Harold Wilson. Results : 65,5 % stay (business, national newspapers, majority of both parties => the UK stayed in the EEC but 35.5% leave (Labour left-wingers & Conservative right-wingers = both parties were divided over Europe from the start) feared federation with supranational superstate & loss of state sovereignty (defs)
Stage 3 - Concluding
Assess docs (reliable/biased justified): To conclude, these documents are reliable as we have their full references and both unbiased as they describes the facts, what actually happened.
Sum-up ideas These docs show the British political consensus between the Conservative and Labour prties to apply, join and stay in the EEC with only political extremes contesting the decision.
+ Open We may wonder how the relationship between the UK & Europe evolved when Margaret Thatcher -the Iron Lady, became PM or With the 1975 referendum Britain decided to stay in Europe, what about the 2016 referendum?